Transportation
The main form of transportation will be the Advance Transit (5 min walk from Dismas) <-- Click here to learn about the different bus routes 
Hours Running 6am-6:30pm WEEKDAYS ONLY
White River Junction & Norwich both use the Green Bus.
---
Businesses the Green Bus takes you to:
(Note for Different businesses/stops you will have to map which stop to get off at)
Thyme Restaurant, Big Fatty's BBQ, McDonalds, Subway, Dunkin Donuts, White River Junction Coop Food Stores, Cumberland Farms, Mobil Gas Station, Tuckerbox, Dan & Whit's General Store, King Arthur Flour, Norwich Inn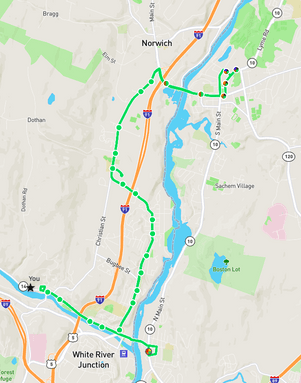 If any questions reach out Advance Transit: (802) 295-1824
Upper Valley Transportation Management Association (UVTMA)
To learn more check it out here. Membership-based group of workplaces offering transportation providers. Due paying members eligible for customize programs for their town or workplace
UVTMA Rep for Hartford: Matt Osborn
Businesses that use this: Hanover Co-op food stores & auto service cleaners, KAF
If any questions call: 
802-291-9100
Volunteers in Action
To learn more check it out here. Provides some transportation services, shopping assistance, meals on wheels, minor home repair, and much more for residents of the Windsor area through volunteer drivers. You pay for the miles driven. 
If any questions call 802-674-5971
Other Methods
If those don't work out there are some other options as well: